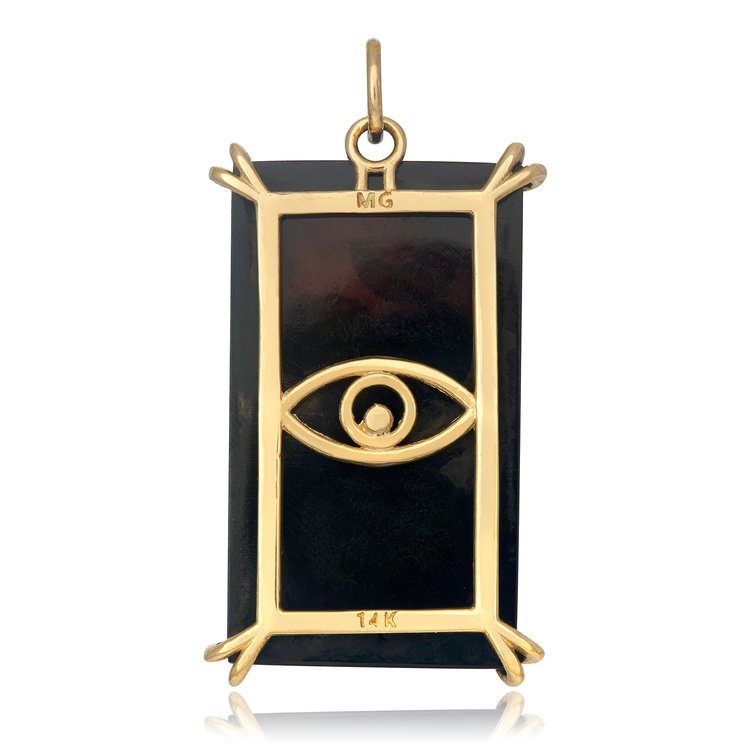 Hand Carved Lovers Tarot Card Charm
14K Solid Gold or Sterling Silver
Hand Carved Mother of Pearl
Measurements in Inches: 1.25" x .75"
Measurements in Millimeters: 35mm x 20mm
Our Tarot Cards and Sacred Symbols are individually hand carved by real people, which means that each tablet is one of a kind. There are natural variations in the colors of the shell as well as the variation by the hand of the artist.
The Tablets are then hand set by a master setter in New York City in a high polish 14K Yellow Gold basket, which displays an evil eye, a symbol of protection, so the pendant is completely reversible.
The Lovers:
In Tarot, the Lovers card has multiple meanings. It can of course signify a romantic love or relationship, and a perfect union of two like minded souls. It can also signify making an important choice of the heart, and the commitment and faithfulness and work that must follow through any such decision. It can be about committing to ones passion or purpose. It can also be about the duality within each of us and the push and pull between temptation and making the right choices, a reminder to seek balance and harmony within ourselves.
The Design on our Lovers Tarot is inspired in part by the archaeological discovery of the "Hasanlu Lovers". A famous pair of 2,800 year old skeletons found to have died in an embrace in Iran.
Care Instructions:
Our hand carved talismans are not intended to be worn in water. Please handle gently and store carefully in a dry place.
Chain sold separately. 
Made to order. Please allow 4-6 weeks for shipping. 
Hand Carved Lovers Tarot Card Charm