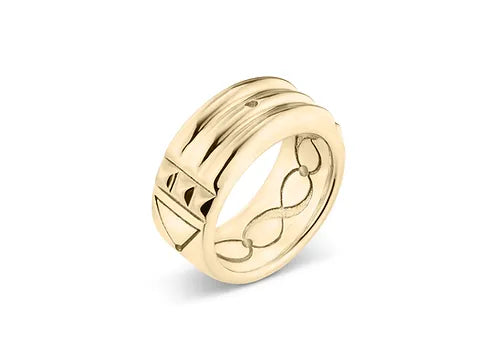 A Fortune & Hawkes x lelamooi Collaboration
In creating The Ray ring, Fortune & Hawkes x lelamooi wanted to respectfully share an interesting piece of history and science. Fortune & Hawkes x lelamooi make no claims, aside from believing wholeheartedly in the power of Sacred Geometry and the frequency of love. They see The Ray ring as an extra touch of magic in your life and hope you do too.
THE STORY
This piece is inspired by an extraordinary ring first discovered in 1860 in a tomb at the Valley of the Kings in Egypt, thought to have origins dating back 4,000 years. The original ring design is based on the principles of Sacred Geometry. When the wearer's vibrational energy merges with the ring's frequency, the design creates a subtle but strong vibrational field that manifests as: love, protection, healing, and intuition.
THE APPROACH
In designing The Ray ring, Fortune & Hawkes x lelamooi took great pride in thoroughly researching the geometry of the original treasure and ensuring its accurate representation. When sizing this piece, the proportions are adjusted accordingly to maintain the original design. lelam0oi has carefully and thoughtfully added Fortune & Hawkes' touches to make this a unique offering.
Sizes available: 6 - 15, Size 10 in stock, please contact sales@roseark.com to discuss further sizing options
14K Yellow Gold